Seaspy Model B4 Camera & Lamp Controller
Seaspy Model B4 Camera & Lamp Controller
The Seaspy Model B4 controller provides power and control of an underwater video camera and light in a rugged, lightweight and easy to operate package.
Housed in an attractive power coated, extruded Aluminium case with wipe clean membrane front panel, this unit is ideal for use in dive control rooms or mobile units where space is at a premium.
This unit is compatible with all Submertec cameras and outputs can be configured for use with cameras from most other manufacturers.
For maximum flexibility in use, the video amplifiers within the unit can be set for normal or balanced line operation to enable use with either coaxial or twisted pair cables.
A camera on / off button on the front panel controls the camera supply which can be internally preset to suit the camera type and cable length, with provision to set constant voltage, constant current or current limit as required.
Focus control is also provided on the front panel for use with variable focus cameras.
Lamp supply can be preset to power a 12 or 24 volt lamp at up to 100 Watts and the output can be preset to a maximum of 30 volts to allow for losses in long cables.
Buttons on the front panel allow the lamp to be switched on / off and intensity varied from maximum brightness to a low level.
All connections are to the rear panel which is split to allow a section to be opened for set-up and adjustment.
Two independent BNC video outputs are provided to allow additional monitors to be connected  if required.  
SEASPY Model B4 SPECIFICATION
| | |
| --- | --- |
| Dimensions | 233mm wide, 140mm high, 315mm deep (excl handles). |
| Weight | 3.65 Kg |
| Power Source | 85 to 132 or 170 to 264 VAC (automatic selection) |
| Camera power | Adjustable up to 22 volts dc with current limit |
| Lamp Power | Adjustable up to 30 volts dc with 100 watt lamp |
| Lamp Control | Variable from front panel down to 15 volts |
| Video input | Normal or Balanced |
| Video Output | Adjustable level with 2 independent buffered outputs |
| Umbilical connection | Amphenol 97-3106-18-1P (required on cable end) |
---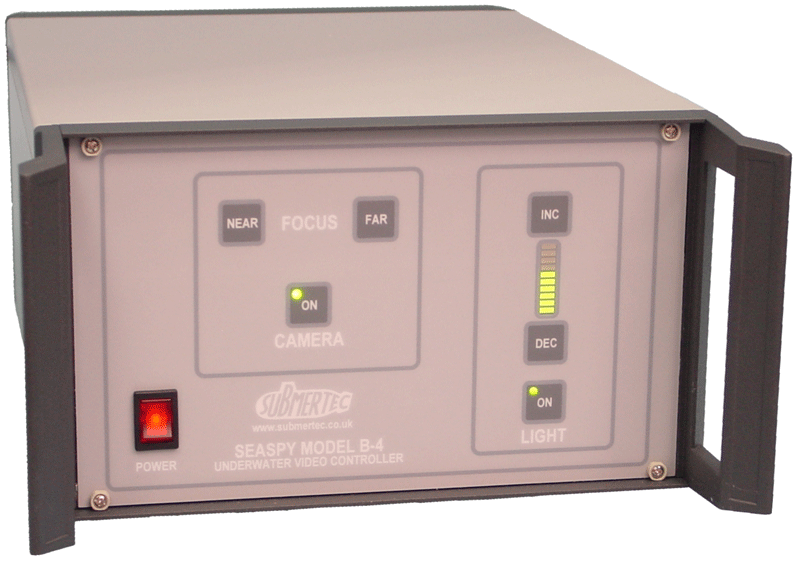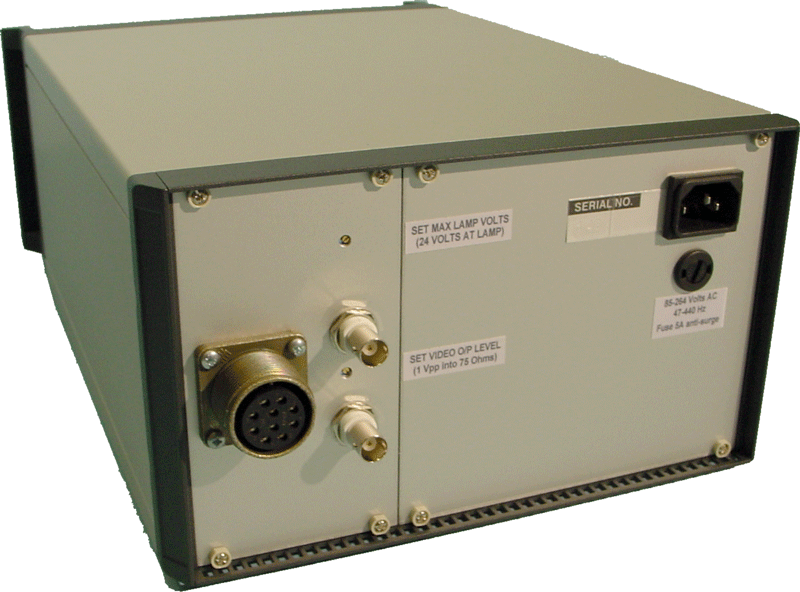 Download PDF